LAST LIGHT GIVES WAY TO NIGHT
The inspiration comes from a sculpture by Michelangelo called Night though we had to adapt the pose somewhat as I couldn't get it to work the way it was sculptured because it looked awkward even though the actual sculpture is intensely graceful. Instead there is a submissiveness to the pose I have chosen and I like that because her form is strong and I enjoy that dichotomy of strength and submissiveness. It's about cycles, beginnings and endings, either in a day or in a lifetime. The mask at her feet represents the theatre of life, its hopes, joys and sorrows and the journey we leave in our wake, while the poppy falling from her hand is for those who will not have a tomorrow and for those whom we shall remember at the going down of the sun and to whom we owe so much.

ORIGINAL SPECIFICATIONS
Title: Last Light Gives Way To Night
Oil on Gesso on 6mm mdf board
Framed 975mm x 655mm

PRINT SPECIFICATIONS
Title: Last Light Gives Way To Night
Giclee Print
24" x 16" (610mm x 406mm x 35mm)
Unframed (may be hung without frame)

DETAIL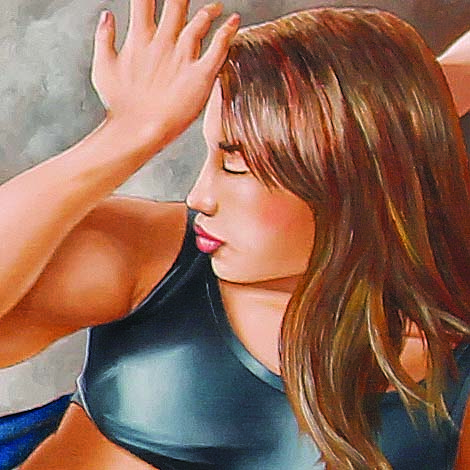 FOR ORIGINAL FINE ART NEW ZEALAND GICLEE PRINTS

Premium Images: All prints are sourced from high quality, high resolution image files taken from the original artworks.
Premium Canvas: Quality archival grade canvas specifically made for canvas printing. The canvas is 340gsm and is a white semi gloss with a mild texture.
Premium Inks: 8-colour Ultra Violet Cure ink system which allows for stunning prints and delivers a wider colour gamut. Canvases can hold their colour for 75 years or more if cared for correctly.
Pine Frames: Canvas prints are wrapped around a 35mm thick high grade NZ pine frame.
Fast Shipping: Canvases are packed in custom made cardboard boxes and sent via courier. WE aim to ship within 5-6 working days.
Guarantee: 100% money back if not satisfied.

Payment Method:
Paypal or post cheque to A D Sutton 97 Botany Rd Howick Auckland 2010

Note: Due to standard canvas sizes some artworks may be slightly cropped on some edges or include a solid black border.



BUY ORIGINAL
PRICE NZ $1500
New Zealand Buyers ONLY
Includes GST & Postage within
New Zealand

Ships from and sold by
Fine Art New Zealand .com
Enquiries to fineartnewzealand@gmail.com
Powered by



✱
MORE PAYMENT OPTIONS
Terms and Conditions




NEW ZEALAND
CANVAS PRINT
NZ $125
Includes GST & Postage
within New Zealand
24" x 16" (610mm x 406mm)





INTERNATIONAL
CANVAS PRINT
NZ $150
Includes Postage WORLDWIDE
24" x 16" (610mm x 406mm)

Ships from and sold by
Fine Art New Zealand .com
Enquiries to fineartnewzealand@gmail.com
Powered by



✱
MORE PAYMENT OPTIONS
Terms and Conditions