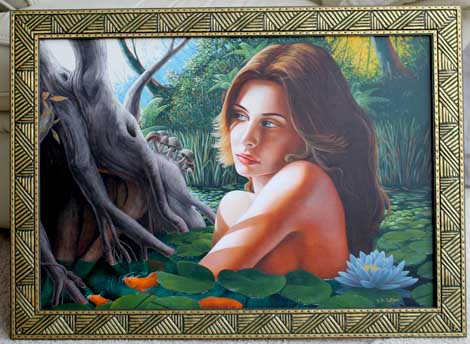 THE LADY OF THE LAKE
Most images show her standing waist deep in water perhaps holding Excaliber with mist and a castle in the background. All very fantasy book cover but she also has a darker side to her in that she enchants Merlin with her beauty and after learning all his secrets imprisons him within a tree. I have tried to capture that side of her, perhaps in a moment of contemplation about what she has done or is going to do, looking into the dark depths of a hollow tree in some forgotten corner of her realm.

ORIGINAL SPECIFICATIONS
Title: The Lady of the Lake.
Oil on Gesso on board
Framed 660mm x 450mm

PRINT SPECIFICATIONS
Title: The Lady of the Lake
Giclee Print
24" x 16" (610mm x 406mm x 35mm)
Unframed (may be hung without frame)

FOR ORIGINAL FINE ART NEW ZEALAND GICLEE PRINTS

Premium Images: All prints are sourced from high quality, high resolution image files taken from the original artworks.
Premium Canvas: Quality archival grade canvas specifically made for canvas printing. The canvas is 340gsm and is a white semi gloss with a mild texture.
Premium Inks: 8-colour Ultra Violet Cure ink system which allows for stunning prints and delivers a wider colour gamut. Canvases can hold their colour for 75 years or more if cared for correctly.
Pine Frames: Canvas prints are wrapped around a 35mm thick high grade NZ pine frame.
Fast Shipping: Canvases are packed in custom made cardboard boxes and sent via courier. WE aim to ship within 5-6 working days.
Guarantee: 100% money back if not satisfied.

Payment Method:
Paypal or post cheque to A D Sutton 97 Botany Rd Howick Auckland 2010

Note: Due to standard canvas sizes some artworks may be slightly cropped on some edges or include a solid black border.




BUY ORIGINAL
PRICE NZ $995
New Zealand Buyers ONLY
Includes GST & Postage within
New Zealand

Ships from and sold by
Fine Art New Zealand .com
Enquiries to fineartnewzealand@gmail.com
Powered by


MORE PAYMENT OPTIONS
Terms and Conditions


NEW ZEALAND
CANVAS PRINT
NZ $99
Includes GST & Postage
within NEW ZEALAND
24" x 16" (610mm x 406mm)





INTERNATIONAL
CANVAS PRINT
NZ $150
Includes Postage
WORLDWIDE
24" x 16" (610mm x 406mm)

Ships from and sold by
Fine Art New Zealand .com
Enquiries to fineartnewzealand@gmail.com
Powered by


MORE PAYMENT OPTIONS
Terms and Conditions